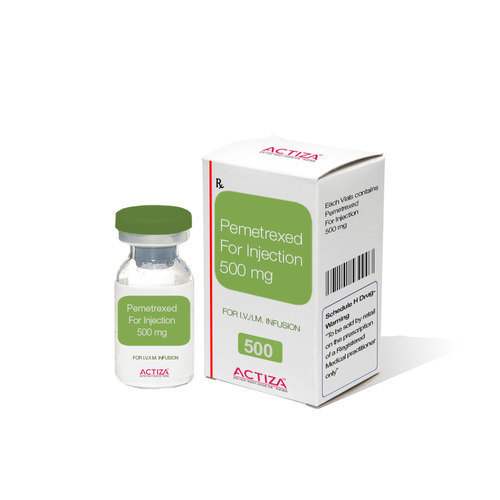 Pemetrexed for Injection 500 mg
Product Description
Pemetrexed Injection


Product Details:
| | |
| --- | --- |
| Minimum Order Quantity | 100 Unit |
| Dose | 100mg, 500mg |
| Packaging Type | Vial |
| Usage | Commercial, Clinical, Hospital, Personal |
We are leading exporter and manufacturer of Pemetrexed Injection.
Uses
Pemetrexed is used in the treatment of ovarian cancer, head and neck cancer, cervical cancer, testicular cancer., breast cancer, non-Hodgkin lymphoma (NHL), blood cancer, lung cancer, bone cancer and urinary bladder cancer
How it works
Pemetrexed interferes with the growth of DNA and RNA of the cancer cells by substituting their building blocks. It prevents the cancer cells from growing and multiplying.
Common side effects
Nausea, Vomiting, Pharyngitis, Loss of appetite, Stomatitis (Inflammation of the mouth), Hair loss, Reduced blood platelets, Rash, Fatigue, Anemia, Diarrhoea, Decreased white blood cell count (neutrophils), Neuropathy
Pemetrexed Injection exporter, Pemetrexed Injection manufacturer
Pemetrexed Injection supplier, Pemetrexed Injection manufacturer in India,
Pemetrexed Injection exporter in India