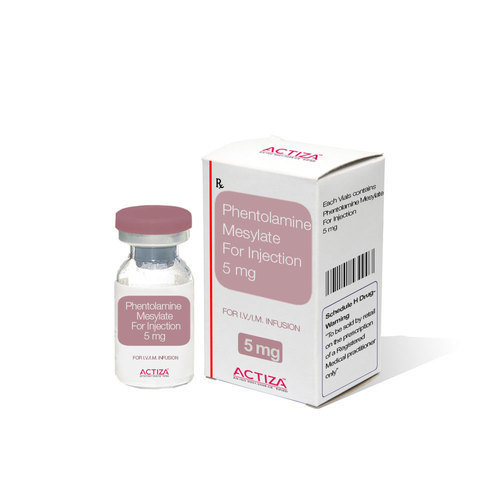 Phentolamine Injection
Product Description
Phentolamine Injection is most commonly indicated to control hypersensitive emergencies caused due to pheochromocytoma. Administered via intravenous route, it is known to be metabolized in liver with elimination half life of about only 19 minutes. This injection is also known to find use for treatment of cocaine-induced cardiovascular complications. It is considered as a non-selective reversible alpha adrenergic antagonist with ability to cause relaxation of systemic vasculature. Phentolamine Injection is also sometimes injected via intracavernosal route for increasing blood flow to penis. Phentolamine has chemical formula C17H19N3O with molar mass of 281.352 g/mol.
Product Details:

| | |
| --- | --- |
| Minimum Order Quantity | 1000 Unit |
| Dose/Strength (ex. 1 mg or 1ml) | 5mg |
| Packaging Type | Lyophilized Injection |
| Usage | Clinical, Hospital |




We are leading Exporter and Manufacturer of Phentolamine Mesylate Lyophilized Injection.

Phentolamine Mesylate for Injection, USP, is an antihypertensive, available in vials for intravenous and intramuscular administration. Each vial contains Phentolamine mesylate USP, 5 mg and mannitol USP, 25 mg in sterile, lyophilized form.

Phentolamine Mesylate for Injection is indicated for the prevention or control of hypertensive episodes that may occur in a patient with pheochromocytoma as a result of stress or manipulation during preoperative preparation and surgical excision.

Phentolamine Mesylate for Injection is indicated for the prevention or treatment of dermal necrosis and sloughing following intravenous administration or extravasation of norepinephrine.

Phentolamine Injection exporter, Phentolamine Injection manufacturer

Phentolamine Injection supplier, Phentolamine Injection manufacturer in India,

Phentolamine Injection exporter in India.