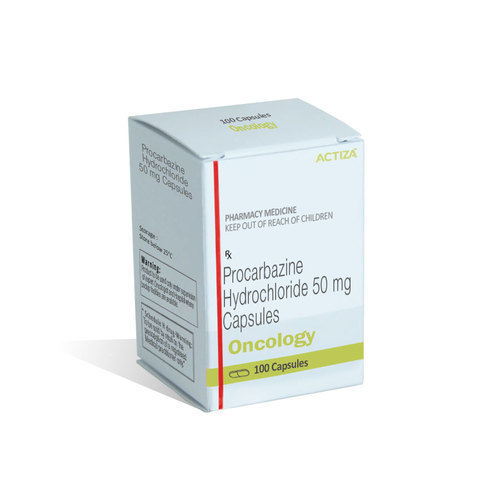 Procarbazine Capsule
Product Description
Procarbazine Capsule is chemotherapy medicine which is most commonly used for treatment of Hodgkins lymphoma. It is also suitable to be prescribed for treatment of brain cancer and is often consumed in combination with lomustine & vincristine. This capsule gets metabolized in liver & kidney producing azo-procarbazine & H2O2 and works by breaking DNA strands of affected cells. Active chemical used in Procarbazine Capsule is known to have molecular formula C12H19N3O with molar mass of 221.299 g/mol. It has elimination half-life of only about 10 minutes with excretion from kidney.


Product Details:

Minimum Order Quantity : 1000 Box
Dose/Strength : 50mg

Uses

Procarbazine is used in the treatment of hodgkin's disease
How it works

Procarbazine belongs to a group of medicines called antineoplastic alkylating agents. It works by inhibiting protein, RNA, and DNA synthesis, which helps to stop the growth of cancer cells in the body.
Common side effects

Nausea, Vomiting, Decreased appetite