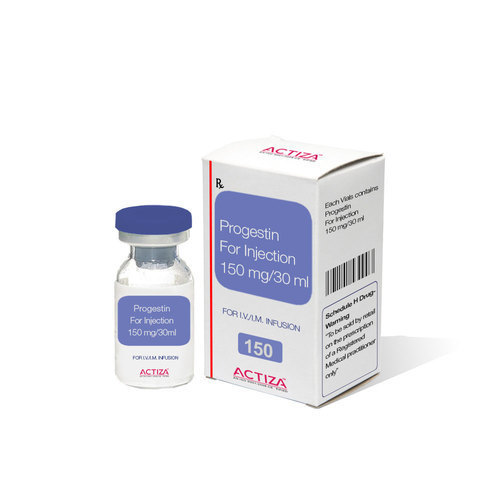 Progestin Injection
Product Description
Progestin Injection has been administered for hormonal birth control & menopausal hormone therapy. It is also indicated for supporting fertility & pregnancy and for lowering sex hormone levels for various conditions. Progestin in the main chemical used in formulation of this injection which works by binding to progesterone receptors and activating them in hypothalamus & pituitary glands. It is also known to have antigonadotropic & androgenic activity. Progestin Injection has been administered via intravenous route and assures effective targeted mode of action with no adverse side effects if consumed under prescription.
Product Details:
| | |
| --- | --- |
| Minimum Order Quantity | 1000 Unit |
| Medicine Type | Allopathic |
| Packaging Size | 30 Tablets |
We are leading exporter and manufacturer of Progestin Injection.
Uses
Progestin 50mg injection is used in endometriosis, breast cancer, premenstural syndrome (pms) and pain during menstruation.

How it works
Norethisterone works by altering the lining of the uterus. The low-dose contraceptive changes the lining of the womb and so prevents esent in the body) on womb lining, stabilizes this lining and decreases pain and bleeding during the periods or delays the periods. Continuous exposure to norethisterone decreases the rate of growth of breast cancer cells.

Common side effects
Adrenal insufficiency, Rash, Vaginal discharge, Headache, Dizziness, Back pain, Increased appetite, Decreased libido, Pain in extremity, Abdominal distension, Cushing syndrome, Sleepiness, Vomiting, Nausea, Edema, Abdominal pain, Lower abdominal pain, Breast pain, Fatigue, Hair loss, Acne, Hot flushes, Thrombophlebitis, Diarrhoea, Irregular menstrual cycle, Cushingoid syndrome, Increased blood pressure, Depression, Mood changes, Nervousness, Constipation, Increased glucose level in blood, Breathing difficulty
tag
Progestin Injection exporter, Progestin Injection manufacturer
Progestin Injection supplier, Progestin Injection manufacturer in India,
Progestin Injection exporter in India.
Strength/Dose (in mg or ml) 150mg/30ml