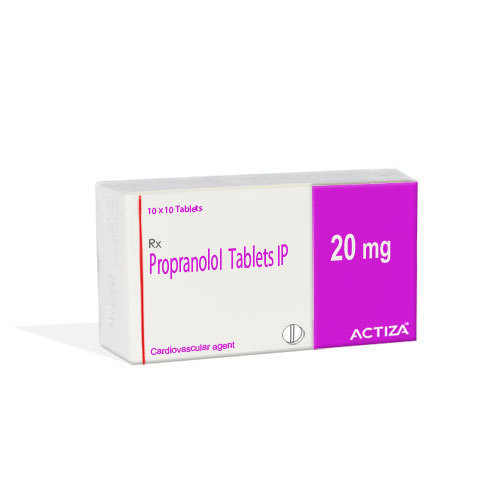 Propranolol Tablets
Product Description
Propranolol Tablets are beta blockers that are prescribed for treatment of irregular heart rate, high BP, performance anxiety, and capillary hemangiomas. Active chemical present in these tablets has molecular formula C16H21NO2 with molar mass of 259.34 g/mol. They are also indicated for prevention of migraine headaches hypertrophic cardiomyopathy, and myocardial infarction. Upon ingestion, this medicine quickly & completely gets absorbed reaching peak plasma levels within 1-3 hours. Propranolol Tablets are lipid soluble in nature with sodium channel blocking effects. They are highly admired for having ability to block epinephrine & norepinephrine with mild intrinsic sympathomimetic activity.
Product Details:

| | |
| --- | --- |
| Minimum Order Quantity | 100 Box |
| Dose | 10mg, 20mg, 40mg, 80mg |
| Packaging Size | 100 tablets |
| Product Type | Finished Product |
| Usage | Commercial, Clinical, Hospital, Personal |




We are leading Exporter and Manufacturer of Propranolol Tablets.

Uses

Propranolol is used in the treatment of angina (chest pain), arrhythmias (abnormal heart beat), heart attack, increased blood pressure , anxiety and migraine

How it works

Propranolol blocks the action of certain chemical messengers on the heart and blood vessels. This can lower the blood pressure, abnormally fast heartbeat and reduces strain on the heart following a heart attack.

Common side effects

Nausea, Headache, Fatigue, Dizziness, Palpitations, Abdominal pain, Breathlessness, Diarrhoea, Slow heart rate, Constipation

Propranolol Tablets exporter, Propranolol Tablets manufacturer

Propranolol Tablets supplier, Propranolol Tablets manufacturer in India,

Propranolol Tablets exporter in India.