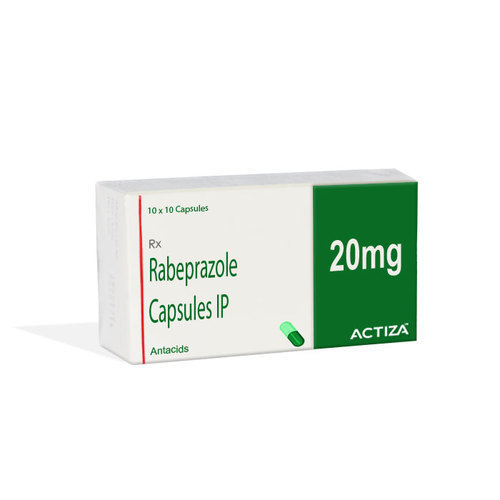 Rabeprazole Tablets
Product Description
Rabeprazole Tablets are proton pump inhibitors that are indicated for treatment of GERD symptoms, erosive esophagitis, and multiple endocrine adenomas. Upon ingestion, they get absorbed in parietal cells of stomach and blocks pump responsible for secretion of gastric acid. These tablets are known to show about 52% of bioavailability with 97% binding to plasma proteins. Metabolism of Rabeprazole Tablets takes place in liver with help of CYP3A4 and CYP2C19 enzymes and up to 90% of excretion via kidney in form of metabolites. They are known to permanently inhibit proton pump in order to provide relief from gastric condition.
Product Details:
| | |
| --- | --- |
| Minimum Order Quantity | 100 Box |
| Product Type | API |
| Usage | Commercial, Clinical, Hospital, Personal |
We are leading Exporter and Manufacturer of Rabeprazole Tablets.
Uses Rabeprazole is used in the treatment of acidity, heartburn, intestinal ulcers and stomach ulcers How it works Rabeprazole lowers the acid production in the stomach.Common side effects Nausea, Headache, Abdominal pain, Constipation, Diarrhoea, Flatulence
Rabeprazole tablet exporter, Rabeprazole tablet manufacturer
Rabeprazole tablet supplier, Rabeprazole tablet manufacturer in India,
Rabeprazole tablet exporter in India.