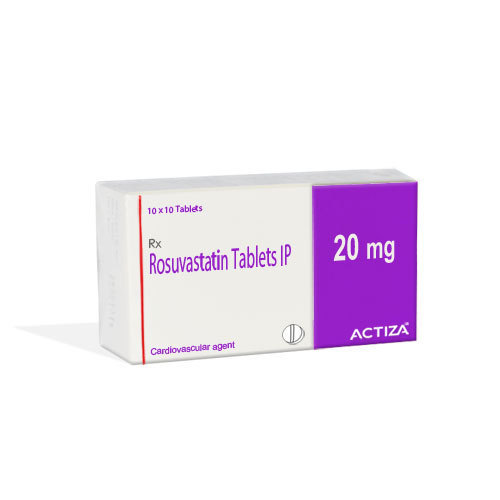 Rosuvastatin Tablets
Product Description
Rosuvastatin Tablets are inhibitors of HMG-CoA reductase and are indicated for treatment of high cholesterol and for prevention of cardiovascular disease. Rosuvastain has chemical formula C22H28FN3O6S with molecular weight of 481.539 g/mol. They are known to have only 20% of bioavailability with protein binding ability of 88% and 19 hours of elimination half life. These tablets are also prescribed for treatment of dyslipidemia. Upon ingestion, Rosuvastatin Tablets get metabolized in liver by CYP2C9 and CYP2C19enzymes. Belong to drug class of stains, they mainly get excreted in feces showing targeted mode of action.
Product Details:

| | |
| --- | --- |
| Minimum Order Quantity | 100 Box |
| Dose/Strength (ex. 1 mg or 1ml) | 5mg, 10mg,20mg |
| Packaging Size | 100 Tablets |
| Packaging Type | Strips, Box |
| Usage | Clinical, Hospital, Personal |




We are leading Exporter and Manufacturer of Rosuvastatin Tablets.

Uses

Rosuvastatin is used in the treatment of increased cholesterol levels in blood, increased triglycerides levels in blood and increased LDL levels in blood

How it works

Rosuvastatin blocks an enzyme (HMG-CoA-reductase) that is required in the body to make cholesterol. As a result, it lowers the level of cholesterol in the body.

Common side effects

Musculoskeletal (bone, muscle or joint) pain, Allergic reaction, Headache, Nausea, Dyspepsia, Nasopharyngitis, Increased liver enzymes,

Rosuvastatin Tablets supplier, Rosuvastatin Tablets manufacturer in India,

Rosuvastatin Tablets exporter in India.