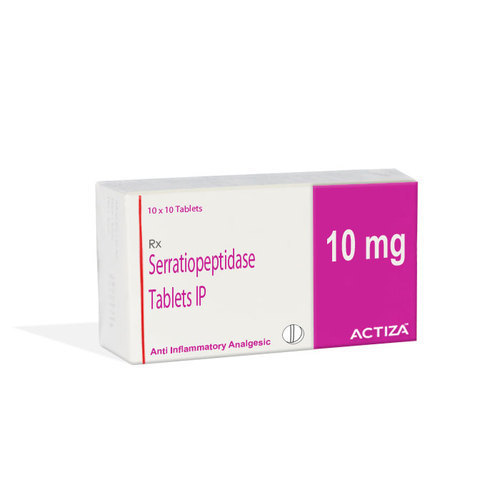 Serratiopeptidase Tablets
Product Description
Serratiopeptidase Tablets have been prescribed for relieving pain & fever caused due to various health conditions. They are considered as proteolytic enzymes that are known to work by acting at site of inflammation to break accumulation of abnormal proteins in order to exert their curative effects. These tablets are known to be highly effective in migraine headache, chronic lower back pain, tension headache, and arthritis. Serratiopeptidase Tablets offered by us are high effective in nature assuring targeted mode of action.
Product Details:
Minimum Order Quantity : 100 Box
Application : Analgesics And Pain Relief Medicines
Dose : <100 mg
Type Of Medicines : Allopathic
Uses
: Serratiopeptidase is used in the treatment of pain and swelling.
How it works
: Serratiopeptidase is an enzyme that acts by breaking down the chemical mediators that are involved in causing pain and inflammation, thereby reducing the pain and inflammation.
Common side effects
: Nausea, Vomiting, Diarrhoea