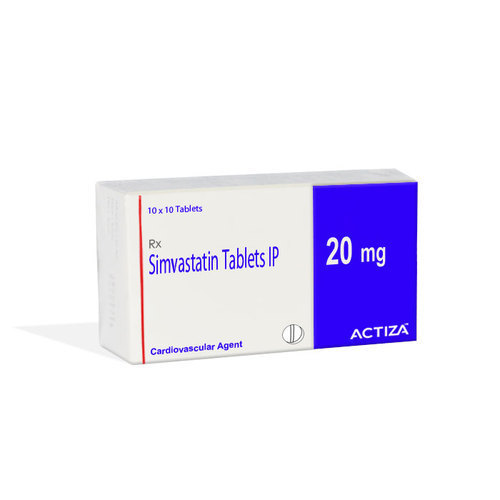 Simvastatin Tablets
Product Description
Simvastatin Tablets have been formulated to be used for lowering lipid level and for prevention of atherosclerosis. Active chemical present in these tablets is known to have molecular formula C25H38O5 with molar mass of 418.566 g/mol. They show excellent protein binding ability of about 95% and get metabolized in liver by CYP3A4 enzyme. Those who are at high risk, Simvastatin Tablets have ability to decrease risk of cardiovascular problems. They are known to belong to satin class of drugs and work by reducing formation of cholesterol in body.
Product Details:

| | |
| --- | --- |
| Minimum Order Quantity | 100 Box |
| Dose/Strength (ex. 1 mg or 1ml) | 5mg, 10mg, 20mg |
| Packaging Size | 100 Tablets |
| Packaging Type | Strip, Box |
| Usage | Clinical, Hospital, Personal |




We are leading Exporter and Manufacturer of Simvastatin Tablets.

Uses

Simvastatin is used in the treatment of increased cholesterol levels in blood, increased triglycerides levels in blood and increased LDL levels in blood

How it works

Simvastatin blocks an enzyme (HMG-CoA-reductase) that is required in the body to make cholesterol. As a result, it lowers the level of cholesterol in the body.

Common side effects

Musculoskeletal (bone, muscle or joint) pain, Allergic reaction, Headache, Nausea, Dyspepsia, Nasopharyngitis,

Simvastatin Tablets exporter, Simvastatin Tablets manufacturer

Simvastatin Tablets supplier, Simvastatin Tablets manufacturer in India,

Simvastatin Tablets exporter in India.