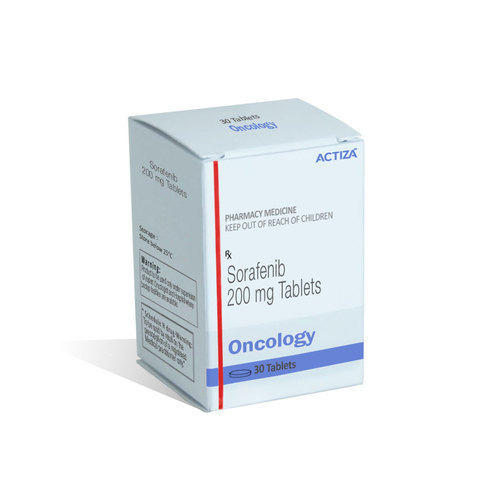 Sorafenib Tablets
Product Description
Sorafenib Tablets have been formulated for treatment of advanced renal cell carcinoma, hepatocellular carcinoma, and thyroid carcinoma. They belong to drug class of kinase inhibitor having bioavailability range of 38 to 49% with protein binding ability of 99.5%. Upon ingestion, these tablets show hepatic oxidation & glucuronidation by CYP3A4 & UGT 1A9 enzymes. They are known to have elimination half life of 25 to 48 hours with excretion mainly in feces. These tablets comprise sorafenib as active chemical having molecular formula C21H16ClF3N4O3 with molar mass of 464.825 g/mol. Sorafenib Tablets are highly effective in nature and have targeted mode of action.
Product Details:
| | |
| --- | --- |
| Minimum Order Quantity | 50 Bottle |
| Dose | 200 mg |
| Packaging Size | 120 Tablets |
| Packaging Type | Bottle |
| Usage | Commercial, Clinical, Hospital, Personal |
Sorafenib 200mg tablets
We are leading Exporter and Manufacturer of Sorafenib Tablets.
Information specific to Sorafenib 200mg tablets when used in liver carcinoma
Sorafenib tosylate (Saw-raf-en-ib tos-ill-late) is a medicine which is used in liver carcinoma, renal cell carcinoma and thyroid carcinoma.
The information in this Medicine Guide for Sorafenib tosylate varies according to the condition being treated and the particular preparation used.
Your medicine
Sorafenib tosylate belongs to a class of medicines called kinase inhibitors. It is used to treat liver carcinoma or renal cellcarcinoma.
Sorafenib tosylate works by blocking the activity of chemicals in the body called kinases. Kinases are one of the types of chemicals that control the growth of cells and blood vessels. By blocking the effects of these chemicals Sorafenib tosylate may help to slow the growth of the cancer.
Your medical team will discuss with you the options for treating your cancer. They will take into account factors such as the type of cancer, where it is, which stage it is at and whether you have had treatment before. The results of blood tests and other investigations will also be considered.
How well you feel and how you are likely to cope with treatment is also important.
Do not share your medicine with other people. It may not be suitable for them and may harm them.
The pharmacy label on your medicine tells you how much medicine you should take. It also tells you how often you should take your medicine. This is the dose that you and your prescriber have agreed you should take. You should not change the dose of your medicine unless you are told to do so by your prescriber.
If you feel that the medicine is making you unwell or you do not think it is working, then talk to your prescriber.
When to take your medicine
Some medicines work best if they are taken at a specific time of day. Getting the most benefit from your medicine can also be affected by what you eat, when you eat and the times at which you take other medicines.
Specific information on when to take Sorafenib tosylate can be found in the Patient Information Leaflet that comes with thismedicine or on the medicine label. You can also ask your doctor or pharmacist for information about when to take yourmedicine.
How to take your medicine
Some medicines have specific instructions about how to take them. This is because they work better when taken correctly. These instructions can include getting the right dose and special instructions for preparing the medicine.
Specific information on how to take Sorafenib tosylate can be found in the Patient Information Leaflet that comes with thismedicine or on the medicine label. Alternatively, you can request information about how to take your medicine from your doctoror pharmacist.
If you are having problems taking this form of Sorafenib tosylate, you should talk to your prescriber or pharmacist. They may be able to give you advice on other ways to take your medicine or other preparations that are easier for you to take.
Sorafenib Tablets exporter, Sorafenib Tablets manufacturer
Sorafenib Tablets supplier, Sorafenib Tablets manufacturer in India,
Sorafenib Tablets exporter in India.