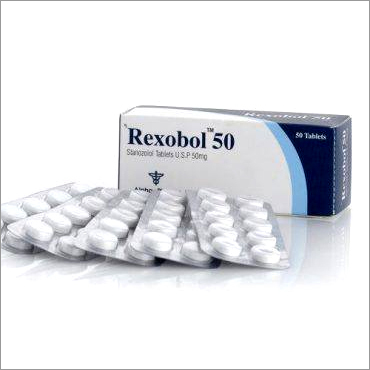 Product Description
Stanozolol Tablet is an synthetic steroid that is identical as androgen hormone. It is used for treating hereditary angoidema. The medicine is formulated with DHT hormone and filled in safe ampoule packaging. This medicine is approved by the FDA (Food And Drug Administration) and now can be used by human. The stanozolol is made in form of oral tablet than other injection drug hormone to make it pass through liver metabolism. Further, it is also used for the inflammation of blood vessels, allergic conditions, osteoporosis, anemia and breast cancer. Mainly the tablet are used for increasing the performance activity of the individual. The tablets are offered in the brand name of Rexobol and Uvstan. The Stanozolol Tablet does not risk the gastrointestinal and liver metabolism when taken. The results of the medicine can be seen after weeks but should only be taken through doctor prescription.

Features
Best for increasing the efficiency of the body to do more work.
Also helps in treating the lipodermatosclerosis and reduce thickness of the skin with faster rates.

The medicine is used for treating both human and livestock animals.

The stanozolol drug has high bioavailability.
Stanozolol is prescribed for:
Inflammation of blood vessels
Allergic conditions
Osteoporosis
Anemia
Breast cancer