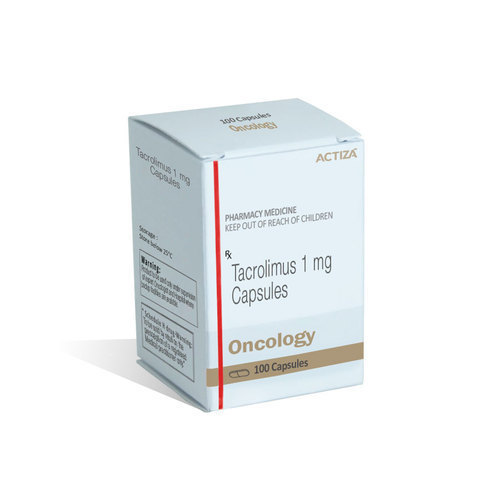 Tacrolimus Capsule
Product Description
Tacrolimus Capsule is an immunosuppressive medicine which is indicated to be used for organ transplant in order to prevent rejection of graft. It is also suitable to be used for ulcerative colitis to suppress inflammation. Active chemical used in formulation of this capsule is known to have molecular formula C44H69NO12 with molar mass of 804.018 g/mol. With excellent protein binding ability of more than 98%, it gets metabolized in liver by CYP3A4 & CYP3A5. This capsule shows elimination half life of about 11.3 hours with bioavailability range of 5 to 67%. Tacrolimus Capsule is known to work by inhibiting production of interleukin 2 which promotes proliferation of T cells.
We are leading exporter and manufacturer of Tacrolimus Capsule.

Uses
Tacrolimus is used in organ transplantation

How it works
Tacrolimus suppresses the activity of body's immune system and prevents rejection of the transplanted organ.

Common side effects
Headache, Nausea, Insomnia (difficulty in sleeping), Diarrhoea, Renal dysfunction, Increased glucose level in blood, Tremor


Tacrolimus Capsule exporter, Tacrolimus Capsule manufacturer
Tacrolimus Capsule supplier, Tacrolimus Capsule manufacturer in India,
Tacrolimus Capsule exporter in India.
Additional Information:
Minimum Order Quantity: 1000 Box