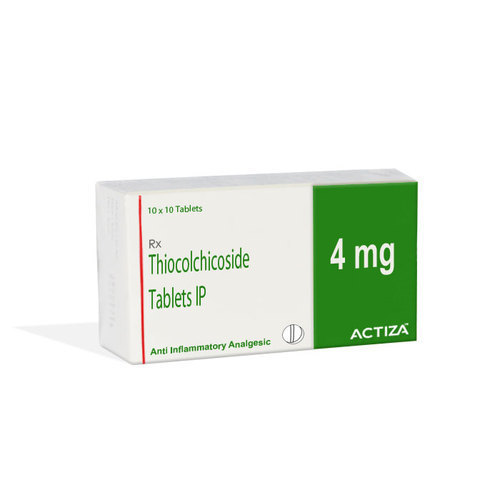 Thiocolchicoside Tablets
Product Description
Thiocolchicoside Tablets have been specifically formulated to be used for treatment of muscle spasms for having excellent muscle relaxant property. They are also appreciated for having anti-inflammatory and analgesic properties. With bioavailability of about 25%, these tablets have elimination half life of 5 to 6 hours. They are known to work as competitive GABAa receptor antagonist with powerful convulsant activity. Active chemical of Thiocolchicoside Tablets is known to have molecular formula C27H33NO10S with molar mass of 563.618 g/mol. They are also appreciated for being free from having sedation effects as they do not interfere with nicotinic receptors.
Product Details:

| | |
| --- | --- |
| Minimum Order Quantity | 100 Box |
| Packaging Type | Strips |
| Type Of Medicines | Allopathic |

We are leading exporter and manufacturer of Thiocolchicoside Tablets.

Uses

Thiocolchicoside is used for muscle relaxation

How it works

Thiocolchicoside works by acting on the centers in the brain and spinal cord to relieve the muscle stiffness or spasm.

Common side effects

Abdominal cramp, Abdominal bloating, Abdominal pain, Diarrhoea, Dizziness, Fatigue, Headache, Influenza like symptoms, Nausea, Weakness

Thiocolchicoside Tablets exporter, Thiocolchicoside Tablets manufacturer

Thiocolchicoside Tablets supplier, Thiocolchicoside Tablets manufacturer in India,

Thiocolchicoside Tablets exporter in India.