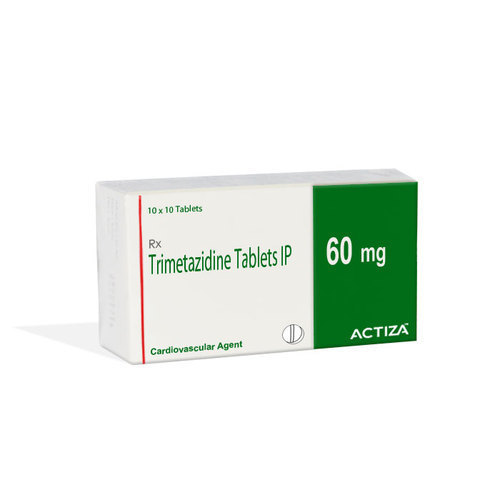 Trimetazidine Tablets
Product Description
Trimetazidine Tablets are known to be first cytoprotective anti-ischemic agent that's that are prescribed for treatment of angina pectoris and to improve left ventricular function. Active compound present in their formulation is known to have molecular weight of 266.336 g/mol with molar chemical formula C14H22N2O3. They show very low protein binding ability of 16% with elimination half life of 7 to 12 hours. Trimetazidine Tablets are known to work by inhibiting beta oxidation of fatty acids resulted due to blockage of long chain 3-ketoacyl CoA thiolase. This activity of these tablets results in increase of glucose oxidation.
Product Details:

| | |
| --- | --- |
| Minimum Order Quantity | 100 Box |
| Dose/Strength (ex. 1 mg or 1ml) | 35mg, 60mg |
| Packaging Size | 100 Tablets |
| Packaging Type | Strips, Box |
| Usage | Clinical, Hospital, Personal |




We are leading Exporter and Manufacturer of Trimetazidine Tablets.

Uses

Trimetazidine is used to prevent heart attack

How it works

Trimetazidine decreases the oxygen requirement of the heart by shifting its metabolism from fats to glucose. As a result, the heart works more efficiently.

Common side effects

Headache, Vomiting, Dizziness, Weakness, Constipation, Nausea

Trimetazidine Tablets exporter, Trimetazidine Tablets manufacturer

Trimetazidine Tablets supplier, Trimetazidine Tablets manufacturer in India,

Trimetazidine Tablets exporter in India.