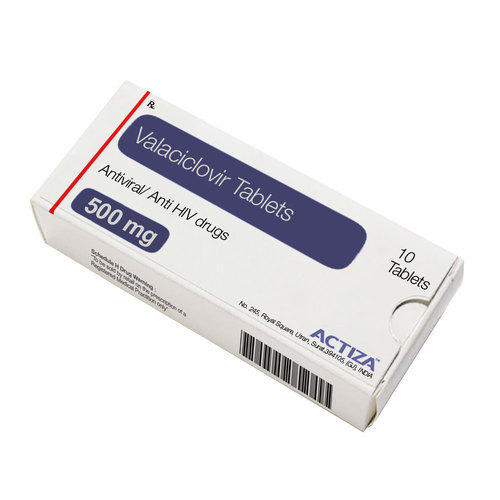 Valacyclovir Tablets
Product Description
Product Details:

| | |
| --- | --- |
| Minimum Order Quantity | 100 Box |
| Dose/Strength (ex. 1 mg or 1 ml) | 500mg, 1000mg |
| Packaging Size | 10 x10 |
| Packaging Type | Box |
| Usage | Clinical, Hospital |

We are leading exporter and manufacturer of Valaciclovir Tablet.

Uses

Valacyclovir is used in the treatment of eye infections by herpes simplex virus

How it works

Valacyclovir prevents the multiplication of the virus in human cells. Thus stops the virus from producing new viruses.

Common side effects

Impaired concentration, Reduced blood platelets, Rash, Joint pain, Irritation of ear, Headache, Dizziness, Convulsion, Sepsis, Photosensitivity, Punctate keratitis, Muscle pain, Cellulitis, Insomnia (difficulty in sleeping), Vomiting, Pain, Weakness, Skin flakes, Allergic reaction, Inflammation, Allergic skin rash, Nausea, Abdominal pain, Dermatitis, Irritability, Numbness, Loss of appetite, Decreased white blood cell count, Paresthesia (tingling or pricking sensation), Hair loss, Fatigue, Fever, Increased liver enzymes, Anemia, Decreased blood cells (red cells, white cells, and platelets), Itching, Dry skin, Urinary tract infection, Diarrhoea, Depression, Rigors, Burning sensation, Decreased appetite, Cough, Weight loss, Oral fungal infection, Altered taste, Decreased white blood cell count (neutrophils), Stomach upset, Constipation, Neuropathy, Uncoordinated body movements, Breathing difficulty

Valaciclovir Tablets exporter, Valaciclovir Tablets manufacturer

Valaciclovir Tablets supplier, Valaciclovir Tablets manufacturer in India,

Valaciclovir Tablets exporter in India.