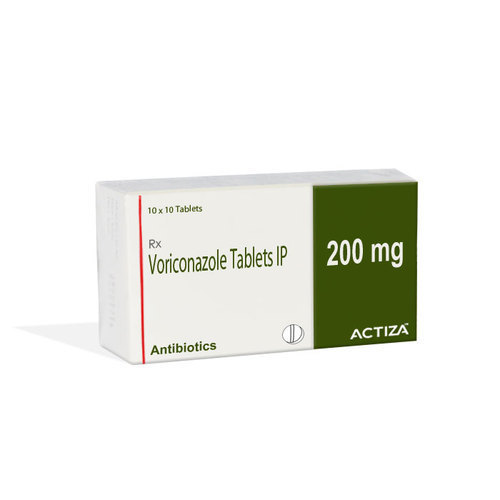 Voriconazole Tablet
Product Description
Voriconazole Tablet has been formulated to be used for treatment of various fungal infections including aspergillosis, histoplasmosis, penicillosis, and candidisiasis. It is an antifungal medicine which shows bioavailability of about 96% with oral consumption. This medicine has protein binding ability of about 58% with metabolism in liver with help of CYP2C19, CYP2C9, and CYP3A4 enzymes. Active compound voriconazole present in this tablet has molecular formula C16H14F3N5O with molar mass of 349.311 g/mol. It shows high effectiveness against Scedosporium & Fusarium species with minimal or no chance of adverse effects if consumed under prescription. Voriconazole Tablet has dose-dependent elimination half life with excretion mainly in urine.
Product Details:
Minimum Order Quantity : 1000 Box
Usage : Clinical, Hospital


Uses
Voriconazole is used in the treatment of serious fungal infections
How it works
Voriconazole stops the growth of fungus by preventing them from making their protective covering.
Common side effects
Nausea, Abdominal pain, Skin rash, Increased liver enzymes